Community Involvement
Literacy among our Bluffton youth is a serious issue. If children can't read by the 4th grade, they cannot learn. Unfortunately many of the young members at the Boys & Girls Club of Bluffton have this problem. At the Boys & Girls Club of Bluffton have a well-established Reading Intervention Program that is making a difference for 100 of these members, per year. They have seen when a child's reading score improves, so does their self-esteem and school performance.
Their goal is to help 200 members each year, which they are addressing by adding a 2,700 square foot Literacy Center extension to the west wing of the Bluffton Club. Plus, they want to help with their parking issue, by adding a large parking facility and a safe one-way traffic flow in and out of the Club.
Total project cost:  $585,106.
To date: $250,000 (which is 43% of our goal)
To learn more or support this project please visit crowdrise.com/bgcliteracy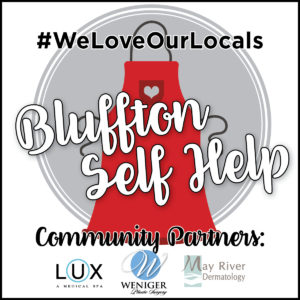 We are Community Partners with Bluffton Self Help and an Official Drop off Location on Saturday's from 9am to 12pm! Donations can be dropped off at LUX ~ A Medical Spa's front desk.
Bluffton Self Help exists in order to help our neighbors in need of food, clothing, educational and financial assistance, and to provide programs that promote self-worth, dignity and create a pathway to personal success.
Thank you for helping us Support our Local Community!